Zest-itⓇ Pencil Blend (Citrus Free)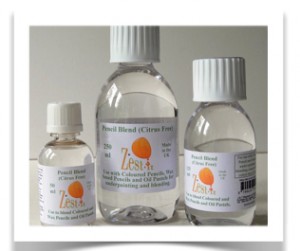 Works just as well as the Original Pencil Blend but has no orangey/citrus smell

For use with Coloured Pencils and Oil Pastels - for under-painting and excellent blending techniques. Great for use with any oil or wax based pencils and pastels.
When colouring parchment for embossed work, first apply oil pastel or similar on the reverse side. Then use Zest-it Pencil & Parchment Blend with kitchen towel or a soft brush to blend the colour, allow to dry.
Emboss your design and it will show white on the front against the applied colour.

Leaves no stain or residue on your finished work. Easy and pleasant to use, ideal for topping up the blending sponge pot.
Available in 50 ml bottles up to 500ml